While, it may be relatively easy to get started with vermicomposting, choosing the right worm compost bin is a tricky job in itself, right? 
We get it. It took us ages to settle on the right one for ourselves…with a ton of confusion on the way. 
It might be overwhelming at first, not knowing where to start.
In general, there are two types of worm composting bins available in the market: tray system bins, and continuous flow system. 
Based on our experience, the worm composters with a continuous flow system are easier to manage, but can be more expensive initially.
In this article, we have tried and tested different models of worm composters to come up with honest reviews of the 10 best vermicomposting worm bins available in the market. 
Let's "worm up" and dig right in!
10 Best Worm Composter Reviews
1. The Squirm Firm Worm Factory 360
This is the best worm composter that provides an all-in-one solution to managing your biodegradable kitchen scraps. 
You don't have to be an experienced worm composter to use this Worm Factory 360. 
Start with bedding and gradually fill the trays for the worms to feed on. 
You can configure its capacity according to your needs.
The Worm Factory 360 comes as a factory standard four-tray model that can be expanded up to eight trays as required. 
As the worms eat the scraps and move upwards, the base with a spigot collects the worm tea. 
The base is quite sturdy. You can freely harvest the compost formed at the base without interfering with the other trays.
This worm bin is designed to be used both indoor and outdoor. 
If you are worried about the dead worms due to extreme heat or cold, you can use it as an indoor worm composter to maintain a moderate temperature (40˚F to 80˚F). 
The thermosiphon airflow mechanism prevents the spread of odor.
The Worm Factory 360 may not look as fancy as you want it to be. 
Although simple in design and easy to use, you may find its stacked structure difficult to move around at once.
Pros
The overall structure is made of thick and sturdy recycled plastic.
Allows additional trays for easy expansion
Can be used both indoor and outdoor
Odorless operation
Fast, convenient, and effective.
Cons
Difficult to move the bin with all the trays at once.
Not effective when using more than five trays at once.
2. Urban Worm Bag Worm Composting Bin
If you find Worm Factory rather cumbersome to move with its stack of trays, you will definitely be impressed with the innovative design feature of Urban Worm Bag.
Made from breathable Oxford fabric, this worm bag can be used indoors without having to worry about odors. But it is more suitable for outdoor use, just in case the moisture is high.
This worm bin is based on a continuous flow system as there is no layered structure. This accelerates the overall worm composting process.
You can freely harvest the fresh worm castings by using the zippered bottom.
Since the worms migrate upwards as the bottom layer becomes narrow for them, you don't have to bother about separating them anymore when harvesting the compost.
Compared to other products, you will find this worm composter stylish. The manufacturer has focused on both its functionality and aesthetic aspects, making it one of the best worm bins suitable for daily use that lasts for years.
However, you might find fruit flies and larvae developing in the food scraps due to moisture in the environment. Better take them out early.
Pros
Innovative design and very easy to use
Made from breathable Oxford fabric allowing better ventilation to keep the worms healthy
The continuous flow system accelerates the production of worm casting
The zippered bottom allows easy and mess-free harvesting
Holds a greater quantity of worms and compost.
Cons
Excess moisture may lead to the growth of fruit flies and larvae.
The excess fluid may drip from the fabric making it unsuitable for indoor use.
3. VermiHut Plus 5-Tray Worm Compost Bin
The VermiHut worm composter is a 5 tray worm compost system. 
Unlike Worm Factory 360, no extra trays are available. 
Therefore, you can not use the bottom trays as compost storage under the worm colony. 
It is the best worm bin for those who wish to regularly harvest and use the finished compost.
Its ventilation system is designed to allow greater airflow into the bin which is essential to raise healthy and happy worms. 
It is built for outdoor use, but if its size is not a concern to you, you can keep it indoors as well. 
The lid is equipped with coconut husk that does a great job of eliminating any odor. 
Additionally, it also helps to maintain an optimum level of moisture in the bin and prevent the growth of fruit flies.
No doubt, VermiHut is durable and built to last longer than most other worm bins. 
But it loses points on its number of trays and lack of storage feature for the later use of the compost.
Pros
A great ventilation design feature that allows better airflow
The lid is designed to cut off any foul smell
Suitable for both indoor and outdoor use
Prevents the growth of fruit flies and larvae
Ant trappers on each leg
Maintain optimum moisture level in the bin
Cons
Limited to 5 trays only
Not suitable for storing the compost
4. OXO Easy-Clean Compost Bin
It is not always practical to take the food waste outside. 
Oxo's indoor compost bin saves you the trouble by being right there on the countertop or under the sink without taking much space. 
You can just throw the excess food scraps into the bin and take it out at your convenience.
There is nothing that can go wrong with Oxo. It is simple in design and easy to use. 
The lid is effective against the spread of smell in the kitchen. 
Its smooth interior makes it relatively easy to clean even when you haven't used any compost bag.
Pros
Aesthetic design and easy to use
Very easy to clean. There is no need to use a compost bag.
Best suited for indoor use (on the countertop or under the sink)
The lid prevents the spread of odor
Cons
5. Tumbleweed Can-O-Worms Vermicomposter
This uniquely round-shaped tray worm composting bin allows the red wigglers to freely move up and down the container and prevents them from getting stuck in the corners. 
If you are worried about the worms falling in the bottom liquid tray, they can always find their way back to the bedding through a worm ladder.
Once the worms are done with lower layers, they move upwards in search of fresh food and bedding material.
By that time, the bottom tray is fully processed from where you can easily collect worm castings. 
The valve at the bottom of the bin provides an outlet to get rid of excess leachate.
Although made from recycled plastic, its legs do not seem sturdy and reliable enough to sustain the weight of a full worm bin.
Pros
The round shape adds to its aesthetic feature.
The air vents in the lid provide better ventilation in raising worms
Easy to harvest finished compost from the collection tray
Cons
It has fragile legs that might break when using the bin at its full capacity.
6. Hungry Bin Continuous Flow Worm Farm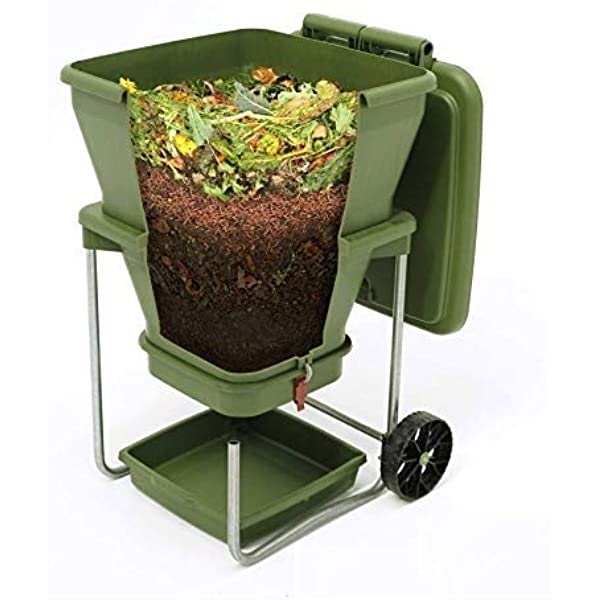 There is no tray system in the Hungry Bin Composter. 
It is entirely based on a flow-through system where the worms work their way upward eating the scraps and leaving behind the layer of finished compost. 
The excess leachate drains itself into the liquid collection tray.
The cone-shaped bin keeps the worms away from the bottom of the composter but allows the processed castings to fall back to the bottom tray. 
It is very easy to harvest the compost. Just unlock the latch at the bottom and collect the castings without making any mess or separating worms.
The Hungry Bin Composter is sturdy in design and is made for outdoor use. 
It is a great choice for larger households to take care of their food waste throughout the year. 
However, its ventilation feature is relatively limited.
Pros
Enough space to hold a larger volume of food scraps
Easy to harvest the final compost
Sturdy design
Perfect for outdoor use
Cons
Relatively expensive product
Poor ventilation system
7. Redmon 8012 Culture Vermicompost Worm Farm
Redmon Culture Worm Farm is a traditional compost bin that comes at a low price tag but gets the job done efficiently. 
It is made for outdoor vermicomposting to process a large quantity of food and kitchen waste along with other biodegradable materials with ease.
This worm composter does not have a bottom layer at all. 
You fix it directly on the ground and add the food scraps for the worms to feed on and break them into castings. The excess liquid is absorbed by the ground.
There are four doors on each side and a cover lid to access the composted material. 
It is made up of heavy-duty recycled plastic and UV stabilized material that outruns all other worm compost bins.
The downside to this worm bin is that you have to feed the red wigglers regularly to prevent them from digging the ground below them instead.
Pros
Budget-friendly composting bin
Capable of processing huge volume of waste
Excess liquid is naturally absorbed by the ground
Weather-resistant and durable bin
Easy access to the worm castings
Cons
Not designed for indoor use
Need to feed the worms regularly
8. Worm Café
Worm Café is yet another tray system worm bin that is worth considering here. 
You can use it both indoors and outdoors to convert and recycle your kitchen food scraps into rich worm tea and worm castings for your garden.
The bin has an innovative and unique ventilation system. 
In addition to the lid and working trays, its ventilated collector tray allows maximum airflow for recycling waste efficiently.
It comes with three layers of large working trays capable of recycling up to 12 lbs of kitchen waste every week. 
You can harvest the excess liquid by simply using the drip-free tap without creating a mess on the floor.
Although made from UV stabilized and 100% recycled plastic, the legs of the bin look rather weak. Its aesthetics could have been better though!
Pros
Larger working trays results in maximum recycling efficiency of the bin
Easy to harvest liquid fertilizer using its drip-free tap
Innovative ventilation design (in each working tray, collector tray, and lid)
Cons
9. Worm Farm Compost Bin
Worm Farm comes with a high price tag, accompanied by a whole lot of design features and functionalities that you would want in an ideal worm composting bin. 
The continuous flow system makes it easy for you to process a large volume of food waste without creating a mess.
The Worm Farm has only one main container equipped with wheels that makes it highly portable. 
You can take advantage of its multi-use feature which allows you to process and harvest high-quality worm castings and worm tea simultaneously.
Worm Farm is built to last for many years. 
It is made from high quality and extremely durable recyclable materials and the company provides a lifetime guarantee on its products.
Pros
Premium design features and ease of use
Highly portable system designed with wheels
Its multi-use feature allows you to harvest worm castings and worm tea at the same time.
Highly durable product with a lifetime guarantee
Cons
10. Hot Frog Living Classic Composter
Unlike other worm bins, Hot Frog Living Composter does not look like a worm composter at all. 
It comes with a great set of design features suitable for both indoor and outdoor use. The high compost efficiency of the bin keeps the odor in control so that you can comfortably use it for worm composting indoors. 
The double-walled lid and base work to provide insulation to the red wigglers against extreme temperatures even when it is outdoors.
The Hot Frog Composter has a built-in moisture control and 360-degree airflow system to keep the worms happy, healthy, and productive. 
Most worm bins don't have this feature. The excess liquid drains itself automatically to the bottom reservoir base that you can use as worm tea for plants.
It is made from a BPA-free, UV stabilized recycled plastic that is quite durable even when exposed to direct sunlight. 
The wooden legs provide firm support to the bin even when used in full capacity.
You are likely to have trouble with worms repeatedly falling into the collection tray. To solve this problem, place a filer and mesh on the tray so that they can get back to their home.
Pros
Great design features
Built-in moisture control system
Excellent ventilation
Highly durable and resistant to sunlight
Comes with instructions for use engraved underneath the lid.
Cons
Only available in green color
A bit expensive
Worm Bin Buying Guide
The best thing about worm composting is that it is not rocket science once you have it down.
The worms do all the job of processing the food scrap.
BUT you need to give them a nice home – either a worm farm or a container known as a worm bin, that contains the perfect environment for your chosen worms and where they can comfortably and happily compost for you during their life cycle: eat, poop, and reproduce.
The number of bins out there confused us at first too, which is why we reviewed your options to help you choose!
There are seemingly so many different factors to consider like the ones we've listed below
Things to Look For
the scale of composting
size and material of a bin
its placement – indoor or outdoors?
ease of use
types of organic waste
Ventilation
moisture control
harvest method
odor filters
A Word Of Caution!
Dairy and meat products produce horrible smells as they decompose. 
Avoid putting those products with other food waste in the worm compost bin. 
The smell attracts fruit flies and pests that negatively affect the health of worms.
Also, avoid oil because it blocks the ventilation and moisture necessary for the survival and growth of the worm colony.
Final Words
Taking the trash to landfill sites is a thing of the past. 
Everything can be recycled and reused in one way or another. 
You can reduce your environmental footprint by taking responsibility for the kitchen waste you produce at home with a simple worm composting project. 
Not only that, you can use the compost as a high-quality organic fertilizer for your gardening, and all it takes are your kitchen scraps!
The latest research and development in the area of worm composting have allowed manufacturers to upgrade products to make the overall recycling experience more convenient, fun, and less messy than ever. 
Give it a try once and you will never look back again. Worm composting is addictive!
Most worm composters are designed for indoor use, but we've included some outdoor ones in our review. 
If you are a beginner, start with something as simple as Oxo Easy-Clean Composting Bin. 
As you gain more experience, you can further experiment with other advanced models. It is a never-ending process.
Now that you know about the best worm composters available in the market, it is up to you to make the final purchase decision. 
Consider their features, pros, and cons and match them with your budget and requirements. 
You are not just buying a worm composter. It is an investment and a contribution towards creating a balanced natural world.
Happy Composting!