If you are anything like most anglers, you will always be looking for unexpected tips and approaches which might give you an edge when it comes to tempting your prey to your line.
In your research, you may have heard claims that you can use gummy worms to catch fish.
But you're probably wondering, do these artificial worms actually make great bait?
Or is this more of an urban legend?
Below we will take a look at whether it is with trying to replace your live bait with their candy counterparts the next time you head to the lake.
Gummy Worms For Fishing – Effective or a Waste of Time?
The short answer is YES, you can use gummy worms to catch fish. There are plenty of fishermen who have posted their experience online and some have even made videos to prove it!
Below are your most common questions answered in more detail:
Can You Use Gummy Worms as Bait?
Surprisingly enough, colorful gummy worms do sometimes work as fishing lures or bait for fish.
You can use gummy worms much as you would use normal worms for bait.
But with their bubble gum colors, sour gummy worms will tend to look more like the real thing to your prey in the water.
Some sour gummy worms can also give off smells that are similar to that of baitfish!
When you go fishing gummy worms can be used with a hook and line as normal and dropped into the water of a stream or lake.
If you are trying to catch catfish, you may find that you have a greater chance of success using this method as small and large catfish tend to try to eat anything which looks like it might be alive in the water.
You can also use sour gummy worms as normal bait to be placed on a hook and cast out into the water.
One canny technique is to cast your gummy worm out and quickly reel it before the tempted fish has a chance to spit the fake worm back out into the water.
This is a technique that can work well when you are trying to catch smaller fish.
Although bigger fish can be reeled in using the same technique; just increase the number of gummy worms you use to five or six on the hook at the same time.
How to Properly Fish with Gummy Worms
When you use gummy worms there are certain things you need to be careful of in order to enhance your chances of success.
If using your worm as a lure you will need to make sure that you are careful not to snag the worms on anything that is at the bottom of the lake.
You should also make sure that you use the most effective types of gummy worms for bait in order to increase your chances of success.
You can choose sour gummy worms as they have a color that is more similar to their real-life counterparts.
You can also select gummy worms which have long legs which you may find easier to use for casting, these options are also easy to break into two or three small pieces if required.
There is also the option to select gummy worms with short arms and legs as fishing bait, these are soft, malleable, and less likely to get stuck at the bottom of the lake or river on rocks.
How to Make Your Own Gummy Worms for Fishing
The steps to creating your own gummy worms for fishing for catfish, bass fishing, salmon, common carp, and other small fish.
All you need to do is follow these simple steps to get started on creating your own bait.
Place the gummy gelatin packets and coloring into a hot saucepan and then add water.
Mix the concoction together with a whisk while the saucepan is over heat.
Continue this process until the water begins to dissolve or has been soaked up by the mixture.
Once this had happened, you can move the mixture from the heat.
Then simply pour the mixtures into your gummy bears or worms molds.
Wait until the mixture had cooled completely and then remove your new gummy worms from their molds.
Take your new gummy worms with you the next time you go fishing and you'll be surprised at how effective this bait is at catching catfish, bass, and other fish!
Will Gummy Worms Dissolve in Water?
Because gummy bears are actually created with water and gelatin, they will not dissolve in the water before you get the chance to tempt any fish onto your hook.
This bait is resilient in plain water and is both robust and malleable to serve its purpose when fishing in a river or lake.
Can You Use Sour Gummy Worms to Catch Fish?
A piece of sour gummy worm will serve as an excellent piece of artificial fishing bait, as its coloring is likely to be similar to that of live fish in the water.
You can see plenty of experiences online from fishermen on a forum who have caught fish including:
catfish
bass
trout
bluegill
or other river fish
..who can easily mistake these types of bait for a live food source.
Although it may seem surprising, when you go fishing with gummy you will be amazed at how effectively some fish are caught using this bait option.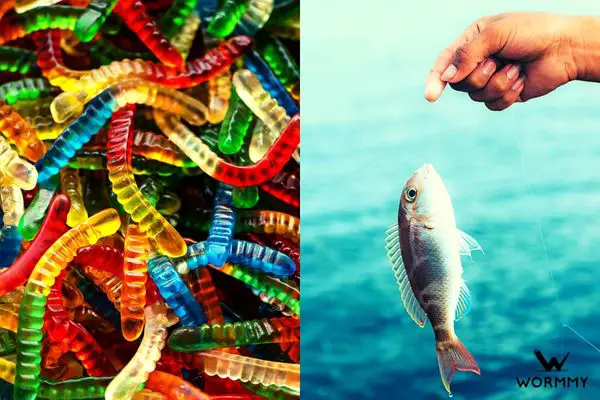 Are There Gummy Worms that Smell Like Baitfish or Real Worms?
Some sour gummy worms can smell remarkably like baitfish, which will help to increase your chances of snagging a bite when you use these baits for fishing in a lake or river.
Will Catfish Eat Gummy Worms?
When you first start fishing with gummy bait, you will find that catfish are generally one of the least fussy fish to be found in any water and are likely to go for anything they spot in the water which looks edible.
Therefore, you'll find that when using gummy as bait, there is a higher chance of catfish biting when you cast a line.
Can You Use Other Candy for Fishing Bait?
As well as gummy, there are other types of candy you can use as fishing bait which can prove surprisingly effective.
For example, marshmallows have been used as bait for trout and Swedish fish of many different colors can be used to tempt animals to your line.
Along with candy, you can try casting a line baited with another type of snack such as cheese, garlic, or even coffee!
Summary
Gummy worms are a surprisingly effective way to lure and bait fish and plenty have fished and successfully caught fish who are happy to try eating and latching on to gummies.
These gelatine worms can look much the same as their real-life versions to fish in the water, and some sour gummy worms can even give off the same smell as baitfish to increase your chances.
If you ever run out of nightcrawlers or other live bait, it is quite easy to create gummy worms at home in your kitchen, so the next time you are getting ready to head out to the lakes, consider creating your own bright, enticing, and easy-to-use bait to take with you.
See if you can bag a catch using a pack of gummy worms and stick one on your hook the next time you're out angling.